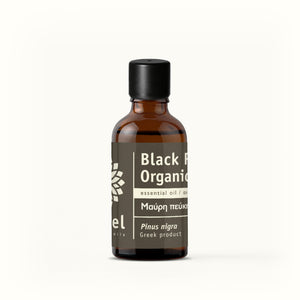 Greek Black Pine Organic Essential Oil
Regular price €7.40 €12.60 Sale
If you are interested in buying larger size quantities we would love to receive your email at info@vessel.gr
Greek Black Pine Organic Essential Oil
Batch: BP2023001B 
 Download GCMS
 Download MSDS
  Download TDS
Other common names: Austrian black pine
Botanical name: Pinus nigra subsp. nigra var. nigra
Botanical family: Pinaceae
Method of extraction: Steam distillation
Plant part used to extract the oil: Needles
Cultivation method: wild
Area of origin: Greece – Chalkidiki, Cholomondas
Historical notes:
In ancient Greek poetry Pitys ('Πίτυς' in Greek means 'pine') was a nymph who was persued by Pan, god of the wild, shepherds and flocks, nature of mountain wilds, and companion of the nymphs. According to a passage in Nonnus' poem Dionysiaca (4th – 5th century A.D.) Pitrys was changed into a pine tree by the gods in order to escape Pan's advances.
In ancient Greek religion and mythology, pine trees were sacred to Dionysus, the god of the grape harvest, winemaking and wine. In the ancient city of Corinth, the Corinthians were ordered by the Delphic Oracle to worship the pine along with Dionysus as a god.
Biochemical group: Monoterpene
Main chemical compounds:  α-pinene, β-pinene, limonene, β-myrcene, β-caryophyllene, β-phellandrene, camphene, Germacrene D, others
Colour: clear
Consistency: thin
Aroma strength: medium
Perfumery note: middle
Aroma: coniferous, resinous, balsamic, fresh, piney, woody, refreshing, invigorating. A beautiful piney aroma without any harsh notes (it certainly does not smell like Pinus sylvestris!)
Traditional aromatherapy uses:
Traditionally in aromatherapy treatments black pine is associated with the following therapeutic properties: analgesic, antianxiety, antibacterial, antifungal, anti-infectious, anti-inflammatory, antioxidant, anti-spasmodic, anti-viral, calming, decongestant, deodorising, immunostimulant, restorative
Qualified aromatherapists may use black pine essential oil for common complaints such as:
skin conditions: acne prone skin, spots, aftershave rashes, fungal conditions, barber's rash, excessive perspiration
respiratory system: respiratory infections, bronchitis, asthma, cold, flu, congestion, sinus issues (bacterial, fungal),
skeletomuscular system: rheumatism, arthritis, after sports, muscular aches and pain
others: nervous exhaustion, stress-related issues, etc.
Please, also see our How to Use Essential Oils Safely page for more information.
For an aftershave face/neck cream - add together with our Helichrysum and/or Organic lavender essential oil to an unscented light cream or lotion; alternatively try with our Sea fennel and Mandarin. One of our favourite aftershave combinations includes Black pine with Mandarin and a tiny drop of our Bay Laurel essential oil but do make sure you follow safe dilutions!
For a foot cream – add together with a couple of drops of Peppermint and Organic Lavender to an unscented cream base.
For a respiratory congestion: blend with Lemon and/or Peppermint essential oil
For muscular aches and pains massage oil – we dilute our Black Pine with some Lemon essential oil in a fixed oil (carrier oil) and massage the affected areas (please remember that Lemon essential oil is phototoxic!). Another option is to blend it with some Rosemary and Lavandin.
We also like to vapourise it to gently uplift and refocus: try it with Lemon essential oil or, to create a more Christmassy aroma, blend with Sweet orange or Mandarin and add a tiny drop of our beautiful Bay Laurel – it reminds us of Christmas tree and ginger bread aroma – simply scrumptious but do remember to closely follow safety guidelines!
Safety considerations:
Black pine essential oil contains a significant amount of α-pinene. Oils containing high levels of α-pinene are not always easily tolerated by those suffering from asthma. We recommend caution!
As with all essential oils high in monoterpenes it is recommended to store them appropriately (cool place, fridge is a good idea!) as they do tend to go off (oxidise) faster.
The use of old/oxidized Black pine essential oil should be avoided to prevent skin sensitization. Reading Tisserand and Young's full profile is recommended. [Robert Tisserand and Rodney Young, 'Essential Oil Safety' (Second Edition. United Kingdom: Churchill Livingstone Elsevier, 2014), 87, 394.]
Please, also see our How to Use Essential Oils Safely page for more information.
Research and studies:
Chemical composition and antimicrobial activity of the essential oil of endemic Dalmatian black pine (Pinus nigra ssp. dalmatica).
          https://www.ncbi.nlm.nih.gov/pubmed/21404437
 Margaret Pawlaczyk-Karlinski MSc. (Hons.), Cert. Ed., M.I.F.A., NHS reg.